10,000 children to benefit from new £5 million performing arts programme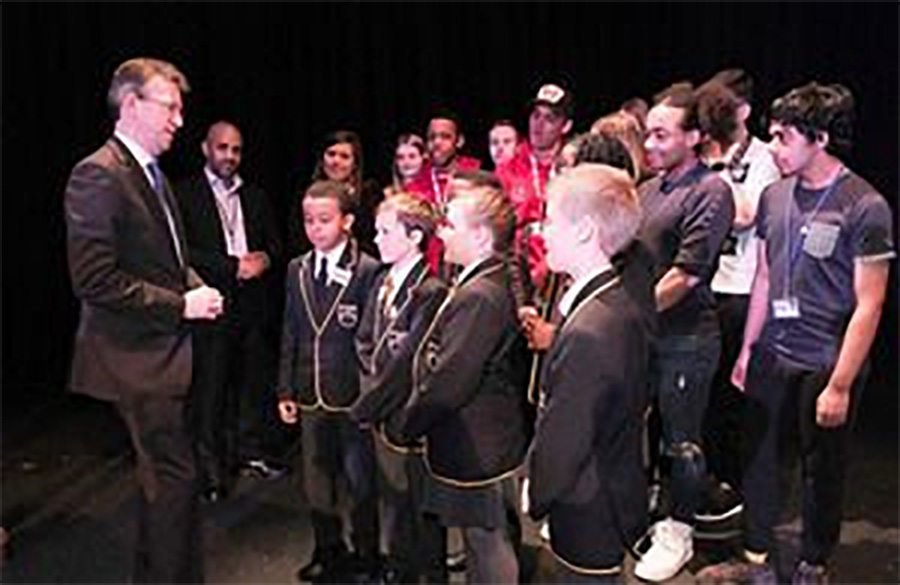 BRIT School, BBC North and Lowry Trust to partner with schools across the country.
Croydon, Derby, Medway, Plymouth and Salford to share £5 million to set up Youth Performance Partnerships
Projects will offer children the chance to learn skills from behind the scenes skills such as lighting, sound and set design and perform drama and dance
World-class cultural organisations will team up with local schools to encourage young people into the performing arts
More than 10,000 five to 18 year-olds will get to work with the likes of The BRIT School, BBC North and The Lowry with theatre skills, rap, performance and creative writing all part of the £5 million Youth Performance Partnership programme.
Delivered in Croydon, Derby, Medway, Plymouth and Salford, and particularly focused on engaging young people from disadvantaged backgrounds, participants will be given the opportunity to learn practical skills both on and off stage and work with playwrights to develop new works that students will then perform. They will also get the chance to design sets, learn about lighting and sound and take part in dance and drama.
Culture Secretary Jeremy Wright said:
As I know from my own experience, performing on stage can be transformative for young people. It can boost self esteem, build confidence and teach skills they will use throughout their lives.

While I've seen first hand some of the excellent work by schools and theatre groups, too many children around the country still do not have the opportunity to take part either on stage or behind the scenes.

Our Youth Performance Partnerships will give thousands of young people the chance to work directly with world-class cultural organisations and inspire the next generation of playwrights, actors or producers.
The Culture Secretary made the announcement during a visit to the BRIT School, Croydon.
Overseen by Arts Council England, one partnership was selected in the North, the Midlands, the South West, the South East and London. Proposals from areas where the level of young people engaging in the arts, culture and theatre are low and where there are less opportunities for young people to take part in performance were prioritised.
The Youth Performance Partnerships build upon the existing government investment in cultural education, in particular the successful Music Education Hubs which have so far helped more than 600,000 children a year access activities such as playing an instrument or joining a choir.
Darren Henley, Arts Council England CEO said:
Taking part in performances, whether on stage or behind the scenes, has huge benefits for children. They can express themselves, boost their mental health and wellbeing through creativity, and learn about career paths they might never have considered before. We're very pleased that the government is making these benefits more widely available to young people from all backgrounds through Youth Performance Partnerships.