Stage Sight Forum – Backstage Goals
Wednesday 18 Nov – Join our BACKSTAGE GOALS Webinar for discussion with Stage Sight, Saints Foundation and Level Playing Field.
About this Event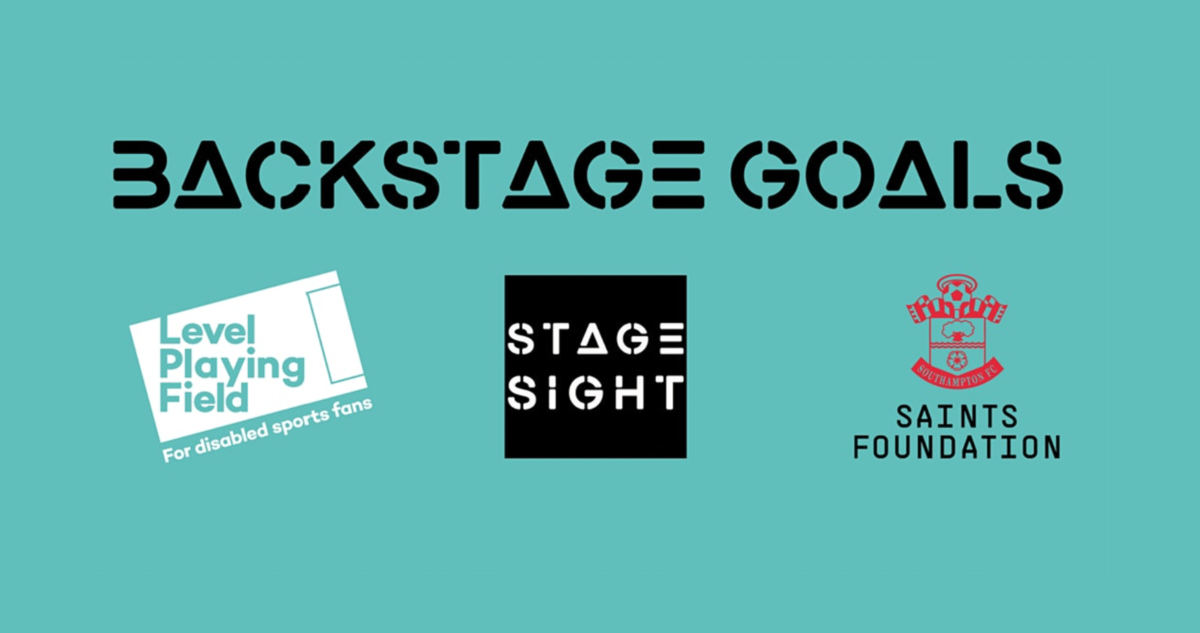 BACKSTAGE GOALS; is an opportunity for you to join a webinar with Stage Sight and two charity organisations from the sports sector (Saints Foundation and Level Playing Field) who share Stage Sight's values and goals. We will discuss the challenges and successes across sectors, and look at how we can learn from each other to reach our goals. #StageSightSportsForum
The Webinar will include;
– In Conversation with Saints Foundation (Sam Fulling, Saints Foundation Manager) and Level Playing Field (Owain Davies, Chief Executive).
– Q&A, your chance to ask your questions and talk to those hosting the webinar.
We will be working with British Sign Language and Live Captioning for the webinar
Saints Foundation (Sam Fulling, Saints Foundation Manager) – Biography
Following undergraduate and postgraduate studying at the University of Exeter and as a passionate advocate of sport for social change Sam started a career in sport for community development, initially at Saracens Sport Foundation, before joining Saints Foundation in 2016 as Foundation Manager to oversee the operational running of the charity.
This role ensures that the project delivery, fundraising, communications and governance functions are joined up approach in order to deliver its purpose to 'use the power and passion of the club to transform lives in and around Southampton, helping people fulfil their potential to be more involved, healthier and empowered members of the community'. Since joining Saints Foundation Sam has led on the creation and coordination of the Saints Together campaign, an annual celebration of the work that Southampton FC through Saints Foundation carries out in the community, as well as supporting the delivery of the recent Saints As One campaign which responded to the community's need during the recent Coronavirus pandemic.
During his nearly 10 years at Saracens Sport Foundation he carried out a number of roles as the charity developed and was fortunate to be heavily involved in the clubs move to the state of the art Allianz Park which blended elite sports provision with community access. In this time the charity grew in scale and size to work with over 10,000 participants each year, but also in the targeted nature of it's project work to address real social issues.
He joined Winchester City Swimming in 2015 to oversee a change management project from a Community Sports Club, to a Charitable Incorporated Organisation (CIO) which continued to provide competitive swimming for aspiring swimmers whilst serving the community by providing inclusive access to swimming for all.
Owain Davies / Chief Executive – Level Playing Field
Having worked in the sport for social change sector for over 10 years in 2018 Owain became Chief Executive of a national campaigning and advisory charity Level Playing Field (LPF).
Owain works in the disability sector and has a passion to work in this sector from a young age due to family involvement. His current role is to lead and implement the strategic aims of LPF, while developing a long-term and sustainable business plans. The organisation represents the views of disabled sports fans along with advocating on their behalf.
Previously Owain has worked at a specialist educational needs school for young people with learning disabilities and behavioural challenges. He worked in the PE department and was director of rugby where sport was used to support education and build confidence.
In his previous role to Chief Executive Owain worked for Saracens rugby club where he was the Senior Sport Development Manager for their award-winning foundation. Hi main work was to oversee delivery and operations of several programmes.